Under the guidance and curation of artistic director Martine Dennewald, 9 to 19 June 2016 saw theatre practitioners, scholars and arts enthusiasts from across the globe descend upon the quaint German town of Braunschweig for the annual Festival Theaterformen. Integral to the festival is the addition of young theatre-makers and performance artists who are invited to participate in an intensive fellowship programme that comprises of many strands and activities. Martine emphasises that the fellows serve as a means to add an additional layer of criticality and connection to the festival experience. While Braunschweig native Felix Scheer hosted the fellows, the scholarly aspect of the fellowship programme was facilitated and framed by German theatre academic and dramaturge, Philipp Schulte. The fellowship brought together a diverse number of young artists and arts educators from the south-east areas of numerous continents: Lucila Piffer (Argentina), Ren Xin (Malaysia), Ho Rui An (Singapore), Kaori Nishio (Japan), Michael Chahoud (Syria), Wichaya Artamat (Thailand), Kanghee Jeon and Songhee Kwon (both South Korea), and Richard Antrobus and myself, Gavin Krastin, (both from South Africa).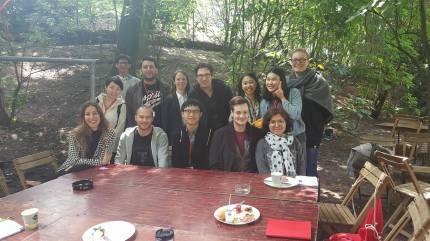 Over 10 days we saw a dozen international full-length productions that ranged from traditional drama, to contemporary performance, installation performance, immersive theatre and documentary theatre (see the full programme here) and were fortunate enough to have lengthy facilitated discussions with each of the directors, producers and dramaturges involved with the productions in which we could unpack the work together in a studious manner. Additionally, we saw numerous exhibitions and video installations, were invited to premiere dinners (to further engage with the artists and festival team in a more social context) and were a part of the research atelier "Our Common Futures" and were encouraged to contribute to this research repository, Textures, a online-platform of the International Research Centre "Interweaving Performance Cultures". We experienced a lot of theatre that we otherwise would not have been privy to, met extraordinary artists that span the world, engaged in meaningful discussions and had the odd late night (we really took to the local Wolters beer!). We leave the festival inspired, empowered and ambitious. In our final round-table discussion we had some opportunity to reflect on our time in Braunschweig.
As we were a diverse group of individuals from varying cultural and linguistic spaces in an international festival where productions were in several languages unfamiliar to the majority, Lucila explained how she experienced a failure of language in that language often cannot describe a somatic or conceptual experience. Yes, surtitles and translations were available, but relationships between bodies on stage are not only spoken, but performed through proximities and rhythms and the tense friction that ensues when these aspects intersect and overlay. Lucile noted the power of breath, gesture, the gaze and ultimately the leap from page to stage. As we become an increasingly globalised and code-switching society, the question of "who is your audience and how do you access/affect them?" becomes an even more pertinent and complex question.
Kaori noted that her time in Braunschweig exposed how she may be "unconsciously injured" and indoctrinated in Japan; a conditioning deeply embedded in her artistic approaches, that she was somewhat unware of, and how it affects her creative output. She explains that the fellowship programme forced her to be cognisant regarding identity politics and history, and the social-conditioning of her immediate Japanese environment. A chorus of heads nodding in agreement responded as we related similar sentiments to our own practices back home in our respective counties – how national identity readies one in particular modes of representation.
Adding to Kaori, Richard and I expressed the weight of the burden of history and how that often forces one to become so acutely focused on local identity politics. As an international and intercultural festival that was largely interested in unearthing histories this year, Festival Theaterformen expanded our vision and aided in our dissolution of borders as we could momentarily step-back from familiar identities and social realities and gain new perspectives from alternative vantage points. Philipp complicated this further by reflecting on how all of the productions at the festival dealt with the artist's local political traumas and situations, but in a porous manner that spoke to larger global economies and unfamiliar immediate socio-cultural orders, giving rise to questions surrounding the notion of cultural transplantation, import and export. The connections and references between each of the productions were clear regarding themes of power and political trauma, particularly in the East-Asian season in which the works shaded and amplified one another through its curatorial juxtapositioning.
I continued on this conversation by discussing how the productions at Festival Theaterformen exposes the immense problems with the recording of history in that it is always written with bias and often by 'the victor'. I argued that as artists we constantly need to challenge our social genealogy and representation in history and that we need to problematize the power dynamics imbued in the chronicling of history. This stemmed from larger questions surrounding the role of the artist, which was very topical dialogue in all facets throughout the festival and in the fellowship programme. Are artists change makers, and if so how responsible are they for this change and what about such an undertaking may lay outside of their realms and reach? Of course no resolution was found (debates continued), but there was a sense of agreement that art cannot change the world and that one needs to be less romantic and idealistic about such ideas. Yes, of course art brings about change and transformation in shifting perspectives and paradigms, but that is just it: change is symptomatic of theatre and in our current highly-mediatised, spectacle-driven and commercial world we desperately need to hold onto the power of the small and the impact of the minor revolt.
Similarly, the role of the curator and the festival was also discussed. On asking Martine how she manages to showcase such a diverse group of artists to a European gaze, she explains that she is hyperaware of such politics of looking. The primary focus of the festival is to provide a platform for the theatre and its spectatorship of differing nationalities to come together in order to share, connect, learn and respect and that she curates productions and artists that/who speak for itself/themselves – that the work she invites must be strong enough to speak truth to its own power in a manner that almost limits or negates the need for a curator to speak on their behalf or represent them. She adds that the clearer an artist is, the more translatable the work is (this points back to Philipp's provocations of transplantation and import/export). She selects work that is specific in its geo-social-political themes and curious in its engagement with content and form, not universal, but in a way that such specificity can speak to, and reach, larger global and interconnected conversations.
As a curator Martine is a researcher and dramaturge. She explains that her starting point to curating the festival is setting herself a research task far in advance and undergoing a rigorous process of enquiry that involves a lot of travel and writing where she can converse and interface with artists and modes of operation from across the world – and often in their environment and social context. Often something will directly transpire from her research endeavours, but sometimes it may fail or divert elsewhere resulting in other strands, approaches and endeavours to consider – an organic and open curatorial process of becoming.
On asking her what is next for Festival Theaterformen and her future curatorial plans she shakes her head and tightens her lips, "It's a secret, a surprise, a new research endeavour" she says.