In October 2016, our Visiting Doctoral Candidates Program, funded by the Center for International Cooperation (CIC), Freie Universität Berlin, entered a new round. During the academic year 2016/17, the Research Center has continued its collaboration with the School of Arts and Aesthetics, Jawaharlal Nehru University, New Delhi, India, and the Sarojini Naidu School of Arts and Communication, Hyderabad, India. As a result, we were able to welcome Promona Sengupta (New Delhi) and Abheesh Sasidharan (Hyderabad) at the Center. As scholars, they are also associated with the Friedrich Schlegel Graduate School at the Freie Universität Berlin.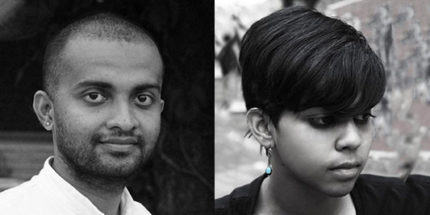 Both of them are pursuing promising research projects, which they have already presented to us during colloquia. Promona's research interests mainly lie in the field of recent political movements in Asia, particularly those led by the youth. During her research in Berlin she wants to use this unique opportunity to make a case for the continuum between the sphere of the university campus and the larger political and cultural sphere of 1960s-70s Germany by focusing on instances of radical political action within the German student movement starting with the sit-in at the Freie Universität Berlin in 1966.
"I am interested in the direct spillover of campus activism on to theater productions made at the time by theater directors Peter Stein (Schaubühne, Berlin) and Claus Peymann (Theater am Turm, Frankfurt a. M.), both of whom came from a background of political student theater."
Abheesh has been working in theater for the last 13 years as designer, director, dramaturge, and researcher. His current focus lies on contemporary performance design. He has been observing a paradigm shift in Indian performance practice.
"The digital holographic designing process and simulation affects the structures of performance and the concept of materiality in the production process. I am tracing the paradigm shift of 'theatricality'/performativity in contemporary Indian electoral campaigns. My research project will focus on the contradictions of contemporary Indian digital/holographic/simulative/performative theory and practice in these campaigns."
During his residence at the Research Center his main focus is to explore a methodology for his research project.
"Berlin is the multicultural hub for performances and academics. Now I am exploring an eclectic methodology based on archival materials with the support of theoretical tools connected to the cultural productions and receptions."
After their first months in Berlin and at the Center, Promona and Abheesh have already deeply immersed themselves in the local life and culture. Their expectations from their research and the city of Berlin includes having an array of new experiences, to which they are very open. They graciously shared some of their impressions and thoughts with us; and they told us about their personal favorite place in a metropolis like Berlin. For Abheesh, it is travelling by the suburban train, especially with performing street musicians.
Promona added:
I think, my favorite place in Berlin is a sports park near my flat in Prenzlauer Berg. I have spent a surprising number of hours there napping and reading in the grass without the slightest judgment from my fellow loiterers.
Not infrequently, expectations are linked to prejudices. Our fellow doctoral candidates have encountered them in different contexts. Abheesh was surprised after his arrival:
"When I was in India, some of my fellows told me 'In Germany you need to live with a clean shave only!' But I saw here people living with their own freedom and decisions."
Promona reported on a grotesque incident:
"My colleague Abheesh and I decided to go to a circus. There we encountered a severely racist clown performer. After the show we confronted him about it. That entire episode was absurd and unpleasant."
We are curious: After their first months in Berlin we wanted to know what the biggest differences and similarities to India are from their point of view.
After a night walk from Prenzlauer Berg to Alexanderplatz in Berlin-Mitte, Promona noticed a difference to her life in India:
"I find the city of Berlin incredibly open-minded, and every day I fall more and more in love with this freedom that is taken for granted. Back in Delhi, for all practical purposes, I am a free, outspoken woman who is privileged to do what she wants. But something as basic as mobility within the city is severely limited."
Abheesh added he felt the freedom of speech as well as the freedom of expression and lifestyle as the greatest difference between the two countries' cultures. The similarities he sees point to the current state of globalization: Banks, beggars, shopping malls, and nomads. Promona made the following observation:
"The big similarity I feel is a sense of comfort among the academic and cultural circles. Just like in any Indian metropolis, Berlin also has its cultural class. One look and you can perhaps even identify who goes to Schaubühne and who goes to HAU!"
And of course, both of them are eager to experience Berlin's theater world by visiting productions all over the city. For her last theater visit Promona decided to go to the Schaubühne:
"The last show I saw was a production of "Tartuffe," directed by Michael Thalheimer. "Tartuffe" is one of my favorite texts, and I must say the performance was very interesting. Apart from all the vertically revolving stage related excitement, I thought that the music lent the story a deeply chilling edge. The opening scene, where Tartuffe gives a sermon, was elevated to the eeriest, most powerful level simply through the use of the superb soundtrack. My only regret is that the play did not include the Deus ex Machina happy ending from the original! So we all went home pretty unhappy about the inescapable nature of religious fundamentalism."
In contrast, Abheesh witnessed (and even became part of) a rather different performative occurrence:
"I was at an open-air live music concert featuring multi media technologies at Piazza del Plebiscite, Napoli, Italy, on New Years Eve. Many families came to the piazza and danced. At midnight I saw an interesting thing: the people threw their bottles into the center of the Piazza and screamed. It happened in front of the Pantheon/Greek style church and near to the neo-classical Royal Palace of Naples. First I was an observer, but then I joined them."
Promising! We have here two very interested and open-minded young scholars who are eager to soak up new experiences with people and cultures. We are looking forward to more exchanges with our two visiting doctoral candidates. Maybe they will share some of their thoughts here on Textures during the upcoming months.