A single person is standing in front of the audience and tells a story. Accompanied only by drumbeats, in a rhythm that accentuates the performance of speech and song, the voice changing from sober description to a flaming confession of love, from monotonous mourning to outcries of pain and misery that makes the blood in the veins freeze. With calls of encouragement, the listeners support the singer and contribute to the flow of the narrative, adding to a polyphony of voices and becoming part of the performance.
Pansori thrills audiences not only in Korea. Fascination for this art, its expressive vocal techniques and epic tales, transcends borders and can also be experienced in other countries, in guest performances and at festivals, in theaters, museums, and cultural centers, sometimes even on the street. However, while pansori is acknowledged as a cultural heritage in Korea, with an impact on cultural identity, performances for spectators unfamiliar with the stories and conventions of the genre require methods of mediation. In addition to these traditional approaches, pansori also provides inspiration and material for Korean and non-Korean artists from a variety of fields.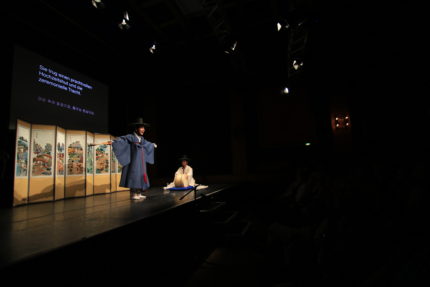 Yun Jin-chul performs Jeokbyeok-ga, together with drummer Cho Yong-su ©Koreanisches Kulturzentrum Berlin
In July 2017, a symposium dedicated to the various ways of "Pansori in Europe" (thus the title) was organized by the Korean Cultural Center in Berlin, with support of the Literature Translation Institute of Korea. The event opened with a full-length performance of the classic piece Jeokbyeok-ga (Song of the Red Cliff) by master singer Yun Jin-chul, with drum accompaniment by Cho Yong-su and an introduction by Matthias R. Entreß (14 July 2017, 7 pm, ufaFabrik Berlin). The next day (15 July 2017, 11 am – 6pm), scholars and artists from Germany, France, the USA and, of course, Korea discussed the potential of pansori in Europe, compared methods of mediation that preserve traditional aspects of the art with more experimental approaches that include different genres and media.
Questions of mediation
Since the 1960s and 70s, occasional guest performances of Korean musicians took place in Europe. Since the turn of the century, however, the interest in pansori has increased significantly. There are many reasons for this phenomenon, not least the inclusion of pansori in UNESCO's list of Immaterial Cultural Heritage of Humanity in 2003. In addition to financial and organizational support from Korea, successful guest performances by estimated masters also depend on the efforts of individuals: experts well acquainted with the particular needs of local audiences.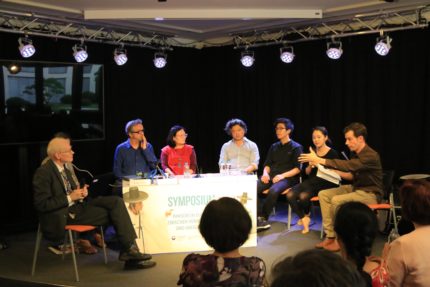 Roundtable discussion ©Koreanisches Kulturzentrum Berlin
For example, the translators and scholars Han Yumi and Hervé Péjaudier (Paris) and the journalist and music curator Matthias R. Entreß (Berlin) regularly organize well-attended events that enable intensive encounters with this traditional Korean art, foreign to most European spectators. However, "mediating" a centuries-old genre and its archaic text that even Koreans can follow only with difficulty, one faces numerous theoretical and practical challenges. In lectures, Han, Péjaudier, and Entreß explained and discussed how they deal with these challenges, from motivating the audience to support the singer with calls to the translation and presentation of surtitles. Backed up by Cho Yong-su at the drum, Péjaudier also presented his storytelling skills as a French aniri gwangdae. Adding a historical perspective, Heinz-Dieter Reese (Cologne), organizer of the festival Horizonte (1985), one of the first events in Germany to focus on traditional music from Korea and also worked for many years as a cultural mediator for the Japanese Cultural Institute, furthermore contributed his experiences with the problems of authentic mediation.
Individual appropriations and artistic collaborations
In addition to visits by masters from Korea, there are other opportunities for pansori and pansori-inspired art in new contexts. From experimental approaches of musicians, composers and theater-makers in Europe, and cooperation between artists from different countries and different backgrounds, new forms of performance are emerging between music, literature, theater and fine arts, which illustrate the creative potential of this traditional narrative art.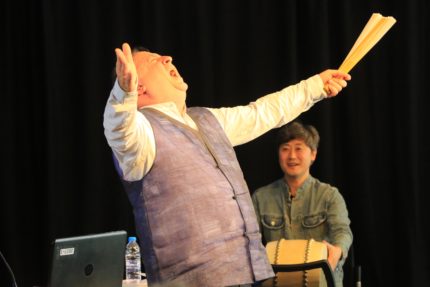 Hervé Pejaudier performs pansori in French, accompanied by Cho Yong-su ©Koreanisches Kulturzentrum Berlin
Contemporary composers and musicians also show interest in the formal and conceptual aspects of pansori and other forms of traditional Korean music. The composer and musician Il-Ryun Chung (Berlin), known beyond Germany and Korea for his cross-border works with instrumental ensembles such as the AsianArt Ensemble or IIIZ+, has recently composed the scenic chants and islands Kassandra (2013-14) for female pansori and Korean instruments. Jared Redmond (Seoul), another composer-cum-musician, particularly appreciates the individual approaches of different singers to the canonized material, including their idiosyncratic methods of notation. Therefore, he leaves the pansori singer Jang Seo Yoon the greatest possible scope for interpreting his Black Flower Blossoming (2016), a work for work for unaccompanied female pansori vocalist and stage lighting. Composer Sebastian Claren (Berlin), in his Today I Wrote Nothing, a re-writing of a traditional sanjo (a kind of instrumental sibling of pansori) for the Korean bamboo flute daegeum, attempts to capture the microtonal details using Western notation. So Sol-i (Dresden), a trained pansori singer and currently composition student at, now looking for new artistic expressive possibilities as a student in composition at Dresden University of Music Carl Maria von Weber, presented excerpts from a new work of pansori – Feldblumen (2016) – with jazz drummer Halym Kim (Berlin) that combines singing and acting with beats from a drum set and narration about violence.
Pansori singers experiment with contemporary themes and methods not only in Europe. The literary scholar Barbara Wall (University of Hamburg) introduced and interpreted Yi Young Tae's work Ogong's Guide to Overcome the Economic Depression. This new piece of puts the Chinese classic "Journey to the West", widely known in Korea and across in various adaptations and media (maybe most notoriously in the Japanese manga/animation series Dragonball), into a contemporary context. Musicologist Dorothea Suh (Martin-Luther-University Halle-Wittenberg) dealt with another "journey to the West", German director Achim Freyer's Mr. Rabbit and the Dragon King (2011), a co-production with the Korean National Theater. She not only considered the source material, the traditional pansori Sugung-ga (Tale of the Underwater Palace), but also diverging German and Korean press reactions to a guest performance of the visually unusual "pansori opera" in Wuppertal.
In the discussions following the presentation and lectures, the participants – artists, scholars, and cultural curators with very different background involved in various projects, collaborations, and experiments – exchanged their positions with the audience. Naturally, their perspectives on pansori, music, theater, and Korean tradition, their methods of mediation, adaptation, and appropriation are accordingly diverse. For instance, the Berlin-based ensemble Theater Salpuri, founded by Soogi Kang and Dietmar Lenz in 1994, presents traditional storytelling in new ways, for example by combining German narration and Korean song, but also integrates classical stories with new material in their theater productions which have also been shown in Korea. The opera-performance Der Freischütz-ga (2008) by ensemble Oper Dynamo West on the other hand, based on Carl Maria von Weber's Freischütz, the first "national" opera in Germany, culminated in a duet between a tenor (Richard Nordemalm) and a pansori singer (Lee Jaram). Shin Hyo Jin (Berlin), who produced this and numerous other German-Korean co-productions, talked about the intercultural collaboration of singers, dancers, musicians and actors.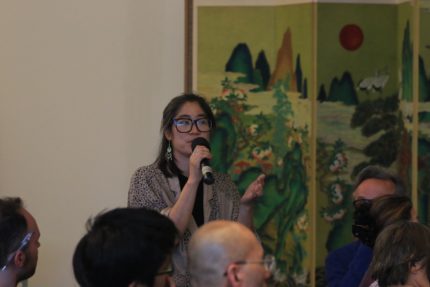 Lively debates on pansori in Europe and beyond ©Koreanisches Kulturzentrum Berlin
Aimed not only at musicians, theater-makers, and artists, but at everyone interested in emotional singing, epic stories, and surprising experiences in general, lively debates emerged throughout the day. Beyond academic debates, themes like methods of presentation and adaptation, as well as issues of ownership and the power dynamics in intercultural collaborations – considering the demands of performers and audiences alike – were repeatedly brought up. In its theoretical and practical debates, the symposium addressed key issues such as the role that traditional and experimental performances play in a European context and how aspects of pansori enrich the work of contemporary artists. With its presentations, discussions, and performances, the symposium also testified to the diversity of pansori practices outside Korea.
After more than eight hours, the symposium ended with a wonderful song by Soogi Kang, spontaneously accompanied by Il-ryun Chung at the drum – and everyone joined in singing or clapping along. Despite the heated debates, a strong interest in pansori, Korean culture, and its contemporary reception in Europe united the participants who had come from Korea, France, and all over Germany. Thanks to the experiences and insights they shared, many questions were raised, not all of which could be answered. It is to be hoped that they will spark further discussions in the future!
Title: Pansori in Europe: Between Mediation and Appropriation
Date: 15 July 2017, 2017; 11am–7pm
Host and Venue: Korean Culture Center Berlin
Additional Support: Literature Translation Institute of Korea
Organizers: Matthias R. Entreß (Berlin), Jan Creutzenberg (Seoul)
Participants: Il-ryun Chung, Sebastian Claren, Han Yumi, Soogi Kang, Halym Kim, Dietmar Lenz, Hervé Pejaudier, Jared Redmond, Heinz-Dieter Reese, Shin Hyo Jin, So Sol-i, Dorothea Suh, Barbara Wall, Shin-Hyang Yun